Ranchers in the desert Southwest have received large subsidies from the U.S. Department of Agriculture's Livestock Forage Disaster Program (LFP) that have helped perpetuate unsustainable ranching on arid public land administered by the Bureau Land Management (BLM) and Forest Service.
Congress created the LFP in the 2008 Farm Bill to establish a permanent drought assistance program to replace the previous ad hoc drought programs administered by the USDA's Farm Service Agency (FSA). The LFP was initially authorized from 2008 through 2011, but the 2014 Farm Bill made it permanent and authorized retroactive LFP payments back to 2011. This legislation also raised the maximum annual payment per person from $100,000 to $125,000 per year, and the maximum annual adjusted gross income (AGI) per person from $500,000 to $900,00.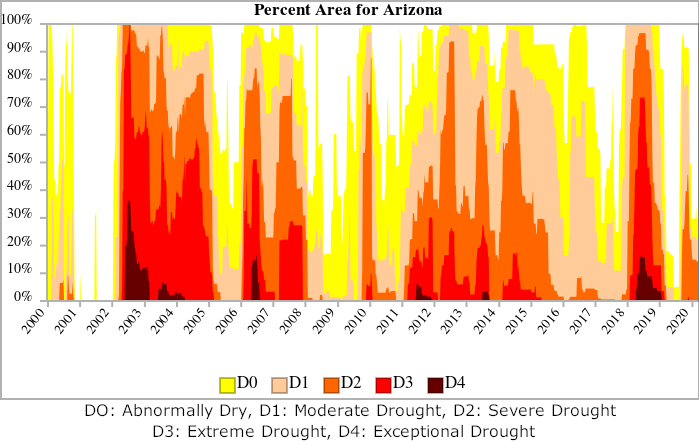 LFP payments are awarded to ranchers by the local FSA offices in counties where there's severe, extreme, or exceptional drought, according to the U.S. Drought Monitor. The amount of LFP money public land ranchers can receive annually is based upon the number of cattle they claim they were unable to graze because of drought. In addition to drought, ranchers can receive LFP payments when they are prohibited from grazing a public land grazing allotment that was been burned by a wildfire. That's a condition of eligibility that's easy to prove. But verifying the number of livestock that were unable use a federal grazing allotment because of drought is problematic.
Calculating LFP Payments
To start with, the maximum number of livestock listed on a public land grazing permit is usually higher than the actual number being grazed. The real, lower, number is typically set annually in response to a rancher's individual situation and/or the existing range conditions.
LFP compensation should obviously be computed using the actual number of cattle that typically would have grazed an allotment when there wasn't a drought. The BLM and Forest Service have some records that help to identify the normal carrying capacities of their allotments. The BLM, for example, requires each grazing permittee to submit an annual Actual Grazing Use Report Form at the end of each grazing season. And at the beginning of the grazing season the Forest Service issues each permittee Annual Operating Instructions (AOI) that include the actual number of livestock authorized to graze the allotment that year. Both agencies, however, rarely count the actual number of cattle on the land.
As per federal regulation 7 CFR Part 760 Subpart D § 760.306, the FSA is supposed to require LFP applicants to submit "supporting documentation" that's "determined to be necessary" to verify a drought loss claim. But like the federal land management agencies, the FSA relies mostly upon information that's provided by the permittees.
2014 LFP Audit
In December 2014 the USDA's Officer of Inspector General issued Audit Report 03702-0001-32, which was initiated to review the FSA's administration of the LFP. They found that about 7% of the LFP payments they audited had been improperly issued by local FSA offices, and that the agency had used questionable monthly feed costs to calculate the amounts of LFP payments. An error rate of 7% may not sound too bad, but according the USDA, the FSA issued about $423 million in LFP assistance for FY2018, and 7% of that is about $30 million.
The Inspector General's report also pointed out that ranchers could receive duplicate compensation for drought losses through the USDA's Noninsured Crop Disaster Assistance Program (NAP). The NAP provides highly subsidized crop insurance policies to agricultural producers. When precipitation or "vegetation greenness" falls below the coverage level selected in the policy purchased by a rancher, drought compensation payments are issued by the county FSA office. (The Inspector General's report, however, failed to mention that since 2006 ranchers can also receive assistance to help them build new livestock waters in times of drought through the USDA's Emergency Conservation Program (ECP).)
LFP Payments Perpetuate Ranching On Arid Public Land
First of all, it's ridiculous that ranchers who graze their livestock on hot desert land are eligible for any kind of drought relief. Deserts are inherently unsuited for profitable ranching, and arid ecosystems are more susceptible to damage from livestock grazing. Unfortunately, however, livestock grazing is still permitted on most arid public land. For instance, Arizona's Tonto National Forest includes about 791,284 acres of Sonoran Desert, much of that with active grazing allotments.
Furthermore, the entire Southwest has been suffering from a nearly uninterrupted drought for about the last 20 years, and the last five years have been the hottest five years in history. It's so bad it's being called a megadrought, and the aridification trend will likely continue due to ongoing climate change. This means that LFP payments are helping to perpetuate increasingly unsustainable ranching operations. Many recipients have received LFP money for several years, and there's no limit to the number of years in a row that a rancher can receive up to $125,00 a year in payments.
It would make a lot more sense for Congress to create a fund to compensate public land ranchers who are willing to voluntarily relinquish their grazing permits so the associated grazing allotments can be retired. This would help to protect arid public land from livestock damage, and U.S. taxpayers wouldn't have to keep throwing good money after bad.
Arizona Examples
The FSA has disbursed many tens of millions of dollars of LFP payments in Arizona, and the public land ranches below are some examples of where LFP payments helped to subsidize livestock grazing in desert areas. The examples also show how much other government assistance the ranches received.
Government Assistance Program Key
ALLB
AWPF
EQIP
HPC
Heritage Fund
LCCGP
LFP
LRP
PFWP
WQIG
WQIG - Water Quality Improvement Grant
, Arizona Department of Environmental Quality (federal/state)
Note: These grants were previously called Section 319 nonpoint source (NPS) water pollution prevention grants.
---
A-Diamond Grazing Allotment, Arizona BLM Tucson Field Office – The allotment is part of the A-Diamond Ranch, located in the Sonoran Desert on the south bank of the middle Gila River in Pinal County. The ranch includes the BLM's A-Diamond Grazing Allotment, the adjacent Arizona state land grazing lease #05-003391, and the ranch's base property along the river. According to the BLM, it encompasses about 20,779 acres, which includes the 6,566-acre BLM allotment.
A Diamond Ranch (G&H Land & Cattle Co.) - A Diamond Allotment, State Lease #05-003391
YEARS
PROGRAM
AMOUNT
PROJECT NAME
2006-2014
EQIP
$200,178
2007
LCCGP #07-29
$61,320
Fencing
2009
LCCGP #09-39
$43,534
Enhanced Land Management Plan
2011-2021
LFP
$345,192
2012
HPC #11-508
$9,773
Solar Livestock Water Pump
$659,997
TOTAL 2006-2021
G&H Land & Cattle Co. sold the A Diamond Ranch, with the associated state grazing lease, to ASARCO LLC in August 2019. G&H now subleases the ranch from ASARCO LLC.
---
Battle Axe Grazing Allotment, Arizona BLM Tucson Field Office – The allotment is part of the Battle Axe Ranch, located in the Sonoran Desert on the north bank of the middle Gila River in Pinal County. The ranch includes the BLM's Battle Axe Grazing Allotment, the adjacent state land grazing lease #05-102690, and the ranch's base property. According to the BLM, it encompasses about 19,578 acres, which includes the 15,155-acre BLM allotment.
Battle Axe Ranch (Wade C. Lueck) - Battle Axe Allotment, State Lease #05-102690
YEARS
PROGRAM
AMOUNT
PROJECT NAME
2011-2021
LFP
$110,611
2016-2021
EQIP
$259,288
2019
AZSFWC*
$6,276
White Canyon Wilderness Water Development
$376,175
TOTAL 2011 - 2021
*
Arizona Sportsmen for Wildlife Conservation (AZSFWC) is a nonprofit organization that receives money from the Arizona Department of Transportation through sales of the group's vanity license plates.
---
Menges Ranches, Arizona BLM Safford Field Office – Menges Ranches holds the grazing permits for four BLM grazing allotments, totaling about 68,730 acres, that are located within and around the Gila Box Riparian National Conservation Area (RNCA) in the desert northeast of Safford, Arizona.
Menges Ranch (Menges Ranches LLC) - Bonita Creek, Johnny Creek, Smuggler Peak, and Zorilla Allotments
YEARS
PROGRAM
AMOUNT
PROJECT NAME
1996
AWPF #95-014*
$157,223
Gila Box RNCA Riparian Fences, Livestock Water
2005 - 2009
EQIP
$57,239
2005
LCCGP #05-70
$36,831
Livestock Water
2007
LCCGP #07-64
$36,503
Livestock Water
2011-2021
LFP
$638,740
2017
WQIG #19-002
$49,580
Menges Ranch Livestock Water System
$976,116
TOTAL 1996-2021
*AWPF #95-014 was shared with two neighboring ranches.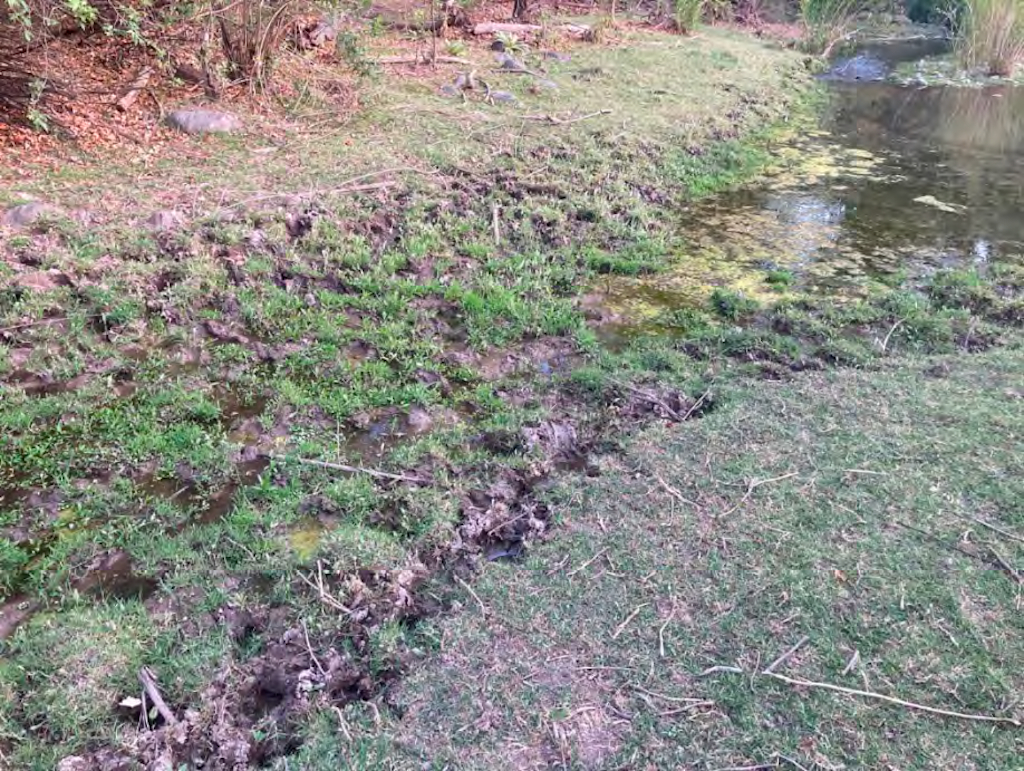 Note: Financial information acquired through Freedom of Information Act requests and Public Records Requests.
Liked this post? Follow this blog to get more.